Motorcycle Insurance in League City, Pearland, Houston, Friendswood, TX, Texas Gulf Coast, and Surrounding Areas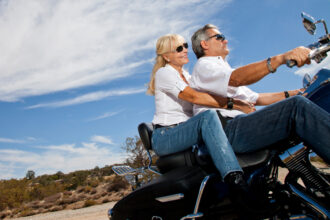 Cruising down the Texas highways on a motorcycle is an exhilarating experience. With diverse and scenic terrain, owning a motorcycle in Texas is a given for thrill-seekers. However, if you drive a motorcycle, you'll need quality motorcycle insurance coverage to keep you protected on the road.
At Rick Tinker Insurance Agency, we offer residents of Houston, League City, Galveston, Pearland, Brazoria, and the surrounding areas a broad range of motorcycle insurance coverage options. From Collision coverage, comprehensive coverage and more, it's our goal to keep you protected no matter where you go.
Motorcycle Insurance: Comprehensive and Collision Coverage
In the state of Texas, all motorcycle owners are required to purchase motorcycle insurance for their bikes. With minimum legal requirements of $30,000 in injury coverage, $60,000 for all injuries in motorcycle accidents, and $25,000 for property damage per accident, mandatory motorcycle insurance coverage is implemented to keep you and other drivers safe on the road. Other forms of motorcycle insurance coverage, such as collision insurance and comprehensive insurance coverage, help keep you and your finances protected in the event of an accident or incident.
Collision Motorcycle Insurance Coverage
Collision coverage helps to keep you protected in the event of a collision with another vehicle or object. By paying for repairs, collision coverage keeps your personal finances secure and prevents out of pocket expenses for repairs.
Comprehensive Motorcycle Insurance Coverage
Comprehensive motorcycle insurance coverage keeps your motorcycle protected in non- collision accidents. Events like vandalism, theft, and other damages are covered under comprehensive coverage for your motorcycle. Note that comprehensive coverage does not cover everyday wear and tear.
Motorcycle Insurance That's Affordable
When it comes to finding quality motorcycle insurance coverage there are two important factors that come into play: reputation and affordability. You want to ensure that you're getting the most affordable motorcycle insurance coverage available to you by a reputable insurance agency that has your best interests at heart. While ordinary insurance agencies in Alvin, Friendswood, Clear Lake, Texas Gulf Coast, and surrounding areas claim to be the best, at Rick Tinker Insurance Agency, we have over 30 years of experience building trust with our community and offering affordable motorcycle insurance solutions without sacrificing quality.
Our experienced agents get to know you personally to gauge your unique motorcycle insurance needs and offer you the most affordable and extensive motorcycle insurance coverage available. Working with your budget, we utilize the most recent and innovative techniques to help find you an array of motorcycle insurance options that offer you the coverage you need, at a price you deserve. At Rick Tinker Insurance Agency, you're not just another client, you're a part of our family! Contact an insurance agent today!