Wind and Windstorm Insurance for the Texas Gulf Coast!
Serving Alvin, Brazoria, Friendswood, Galveston, Houston, League City, and Pearland, Texas
Get a windstorm insurance pearland quote
Cities along the Gulf Coast of Texas are at risk for serious windstorms, damaging hail, torrential rain and other inclement weather conditions. Protect your valuable property from these and other severe weather risks with coverage that includes windstorm insurance. Rick Tinker Insurance provides various plans that insure your home and other property for your wind insurance pearland policy today.
Which Severe Wind Insurance Friendswood Policy is Right for You?
Depending on your exact location and the value of your property, there are several different options to consider when insuring your property against severe weather damage. Our Texas insurance agents and customer service staff specialize in drafting coverage plans – including wind insurance pearland policies – for businesses and individuals throughout the Texas gulf coast, including Houston, Galveston, Friendswood, Pearland, and League City. We'll make sure you get the most comprehensive insurance coverage with affordable monthly or annual premiums.
Announcing a new alternative to the T.W.I.A. policy with competitive rates and more options that could save you thousands of dollars in the event of a claim.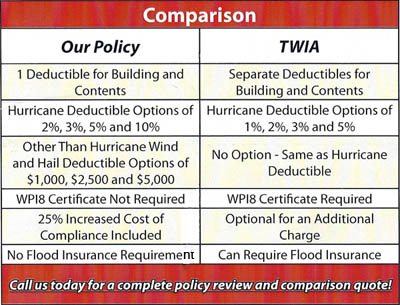 Request More Information About Severe Weather and Wind insurance Friendswood Policies
All the research we do to find an insurance plan suited to your needs comes at no cost. Request a free quote or call (281) 484-7158 to speak with a member of our knowledgeable customer service staff today.