5 Benefits of Motorcycle Insurance
Rick Tinker Insurance provides motorcycle insurance in Houston, Galveston, Pasadena, TX, Alvin, TX, Webster, TX, Texas Gulf Coast and surrounding regions.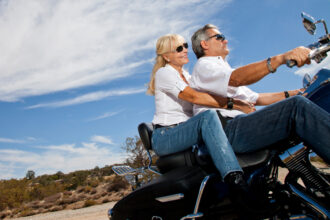 Motorcycle insurance offers several benefits that help protect both riders and their vehicles. Here are five key advantages of having motorcycle insurance:
Financial Protection in Accidents: Motorcycle accidents can lead to significant financial liabilities, including medical expenses, repair costs, and legal fees. Motorcycle insurance provides coverage for these costs, helping you avoid paying out of pocket for these unexpected expenses.
Liability Coverage: If you're found responsible for causing an accident that results in injuries to others or damage to their property, liability coverage within your motorcycle insurance can cover the associated expenses. This can include medical bills, legal fees, and property repair or replacement costs.
Collision and Comprehensive Coverage: These coverage types are particularly useful for protecting your own motorcycle. Collision coverage pays for repairs or replacement of your bike if it's damaged in an accident, regardless of fault. Comprehensive coverage covers non-accident-related damages, such as theft, vandalism, natural disasters, or falling objects.
Uninsured/Underinsured Motorist Coverage: Unfortunately, not all drivers on the road carry adequate insurance. If you're involved in an accident with an uninsured or underinsured driver, this coverage helps pay for your medical expenses and bike repairs in such situations.
Medical Payment Coverage: Motorcycle accidents can result in serious injuries, often requiring medical treatment and rehabilitation. Medical payment coverage can help cover these medical expenses, regardless of who's at fault in the accident.
In addition to these benefits, motorcycle insurance might offer additional features and coverage options depending on your provider and policy. It's important to carefully review your policy and choose coverage that aligns with your needs and the level of protection you're comfortable with. Without further hesitation, please call us.