The Rick Tinker agency can help you with best value homeowner's insurance in Pasadena TX, Webster TX, Galveston, Houston, League City or the Texas Gulf Coast.  They are an independent agency and they have access to leading carriers and insurance companies. That means they can find you the best coverage at the lowest cost. As an independent agent they are not captive to any specific or single carrier.  That means they work for you and look after your interests and not the interests of the insurance carrier. 
Cost and coverage are important considerations when it comes to homeowner's insurance. An independent agent can find you the best price but more importantly will help ensure your homeowners policy does not have serious gaps. Just because you have a homeowner's policy does not mean you have full coverage. One example is flood insurance. Most homeowners' policies exclude flood damage. That is because a flood disaster tends to be widespread and losses can run into billions.  In addition, the risk of flood damage is real and present.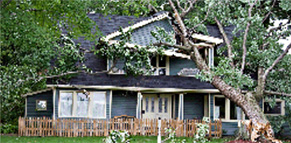 Insurance policies have exclusions and limitations. As a homeowner you need to be aware of any limitations and exclusions.  If a natural disaster such as flood or earthquake destroys your home, will you be covered. Most likely you will need separate insurance to cover you for certain natural disasters. Rick Tinker can help you with that. 
Homeowners insurance will cover you for localised events such as fire, theft, accidents, liability claims and so on. Home insurance will also cover your contents such as furniture, fittings and equipment. But certain high value items such as jewelry, collections and works of art could be problematic. You may need endorsements and riders for such items. 
Replacement value is another important aspect of insurance. You need to be sure you are covered for replacement value of your assets. Replacement value could be very different to original cost.  Rick Tinker can help you with solid homeowner's insurance. That means home insurance you can rely on.